Want to give your home a more personal touch when it comes to its design? Working through one room at a time to refresh its look can go a long way in making it even more welcoming and comfortable. Let's begin with your master bedroom, which is your own personal retreat for some quiet time. Whether you love to unwind with a movie on the bedroom TV or curl up with a good book on a rainy day, here are some ways to spruce up this space.
Mirrors
A master bedroom is typically larger and more spacious. However, installing a mirror or two can enhance this even further. It's an ideal solution if you feel like the kids are taking over the rest of the house and you need more room to unwind. The room won't actually be bigger than it already is, but mirrors can cleverly trick our minds into thinking otherwise. From a standing mirror in the corner to a classy wall-mounted one above the headboard, there are all sorts of options available to you.

Plants
Who doesn't love a bit of greenery spread throughout their home? Many plants are non-toxic to animals, and some can produce their own oxygen. They are also known to invoke a greater sense of calm — perfect for your master bedroom. The best part is that indoor plants come in all shapes and sizes, so you can easily find one that works well with the design of your personal oasis. For example, that gloriously large window in the master bedroom of our bungalow, the Medley, is practically begging for a luxurious fern to sit in front of it.
A Lick of Paint
Perhaps you've owned a Valecraft home for a few years and want to give it a different look, or maybe you've only moved in a few months ago but would prefer to change things up a bit. Regardless, nothing says "sprucing up" more than a fresh coat of paint. This can do wonders for any space, as brighter tones can complement natural light to make it feel roomier. The trick is to set the right mood for your master bedroom to keep the atmosphere cheerful, inviting, and airy. Our Design Centre teams find that light pastel tones — blues, flamingo pinks, pale greens, and the like — are a great fit for the bedrooms in our homes. You can never go wrong with a beautiful white or cream-coloured tone, either.
Repositioning the Bed
Whether sprawled out for a nap or tucked in with a cup of tea and a book, the bed is the centerpiece of any bedroom as a piece of furniture that gets a lot of use. Like those found in Valecraft homes such as the Lewis and the Nash, master bedrooms are designed to be wider or longer, giving you more space to play with. Why not position the bed closer to the window, with easy access to the balcony door? Or, maneuver it over by the walk-in closet for added convenience — perfect for those mornings when you sleep in and need to rush to the office. Maybe now's a good time to give the mattress a flip at the same time for a better night's rest, also.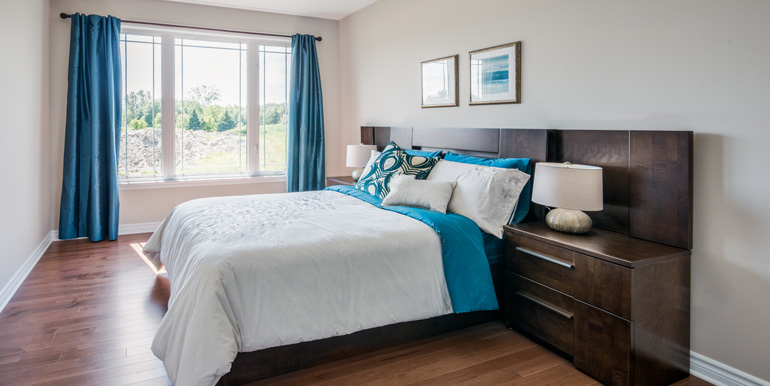 De-Cluttering
Many homeowners have a tendency to collect knick-knacks and furniture they don't really need or use much, especially when upgrading to a large and beautiful home. However, there's something to be said about clearing the clutter away to make the very most of the already-generous amount of space available to you in your master bedroom. This can be cleansing for the mind and body, helping you feel more at ease and capable of unwinding after a long day at work. Less is more when it comes to furnishing any bedroom, it's true, but the trick is to avoid going too overboard with the minimalism. Don't sacrifice personal touches that really make it feel like your own! It's a fine line to walk, but by doing so, you'll enjoy your master bedroom even more.
Elegant, Minimalist Storage
Valecraft homes such as the Morrow feature master bedrooms complete with spacious walk-in closets and ensuites. However, it's how you utilize the storage in these spaces that can influence how your bedroom itself feels. Avoid letting clothes, shoes, toiletries, and other items flow into the bedroom itself by keeping things efficiently and cleanly organized; hanging shoe racks, matching hangers, and fabric crate storage for socks are just a few examples. Also, consider throwing out or donating what you don't need to ensure you always have room for that next purchase. This should be an easy feat given how much storage space is included with a Valecraft home's master bedroom, but it's still a housekeeping step that you should avoid neglecting.
The look of your master bedroom isn't just influenced by paint tones, but also the amount of clutter and the way your storage is utilized. Keep things streamlined, clean and minimalist, but don't forget to add a dash of personality with your favourite paintings or a beautiful potted plant (or three)! Collectively, these touches all contribute to a space that feels more inviting and comfortable.