With popular events such as Valentine's Day and the common practice of staying out of the cold this time of year, February is the perfect month to up your romance game and make someone feel really special. Of course, that doesn't mean you need to merely shower them with gifts and sweets – changing up your home décor is an equally great way to reignite the sparks and give a loved one some extra attention. Whether planning for a February wedding anniversary, date night, Valentine's Day or otherwise, here are some fun décor tips to make your home feel more romantic!
A Candlelit Dinner
It's amazing what a lick of paint and a new tablecloth can do for a dining area, but you can always do a little more. Dining spaces in homes like our very own bungalow, The Sharpley, are great for intimate dinners. Set the scene with two beautiful windows framing a winter scene outside, adorned with luxurious red curtains. Setting the mood with a lovely candle arrangement, cutlery and plates for special occasions is a great way to show someone you care. Of course, try going the extra mile and preparing a succulent romantic dinner, and don't forget to pair a nice wine to go along with it!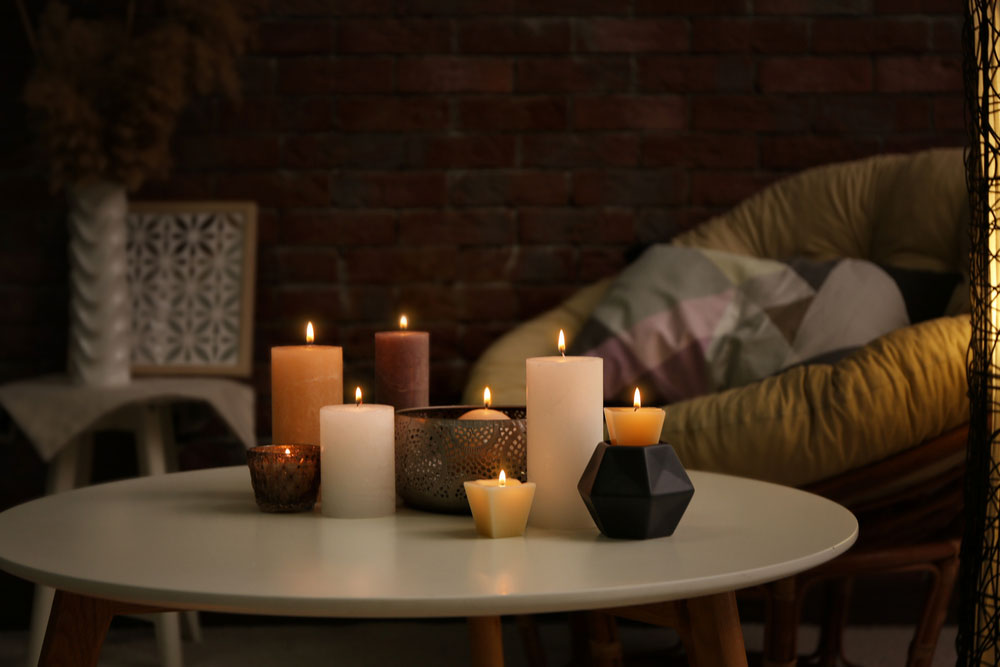 Setting the Mood with Warm Lighting
Lighting has a huge impact on the atmosphere of our homes, which is why we love to make properties such as The Huntley ultra-comfortable and inviting. Take advantage of this to set the right mood! Whether you're having a date night or need to de-stress from a day at the office with the company of someone special, the right lighting can calm, inspire, and even change your mood. Accent your home décor with stylish light fixtures or lampshades, complement it further with a new paint job that makes the tone of the space warmer, and create the atmosphere you're aiming for! If you want a relaxing dinner with a loved one or just the chance to chat privately in a calming space, warm and inviting lighting is a great way to make your home feel more intimate.
Redecorating for Movie Nights
What if the kids are getting dropped off at a babysitter and you want to unwind with your significant other? Well, a movie night is one classic and easy way to make it happen. Try rearranging your living room furniture to make it cozier and more intimate, adding extra throw pillows and getting a spot in front of the TV where the two of you can put your feet up. If you've got a gas fireplace like those found in single homes of ours such as The Nash, flick it on to further add to the ambiance. Draw the curtains, dim the lights, and settle in with a movie that the two of you will love, snacks in-hand. Also, don't forget a snuggly faux fur throw! This is a great way to unwind after a long workweek.
Surround Yourself with Art
Whether paintings, good books or a classic Hollywood movie collection, art extends to all sorts of media. Decorating your home with a beautiful bookshelf lined with novels or a brilliant oil-based landscape painting by a local artist like Gordon Harrison are great ways to redefine the tone of your interior. For bedrooms, living rooms and dining spaces such as the open-concept areas found in homes such as The Hazelwood, these inspirational touches go a long way in making rooms more sophisticated and elegant. Of course, if you have extra features such as a luxurious spiral staircase or gas fireplace, surrounding yourself with art will enhance the romantic atmosphere of your interior even further. This is a lovely way to express your tastes, with the pieces you display acting as conversation pieces.
Traditional Meets Modern
Valecraft homes offer sumptuous elegance in a modern flair, and we also love to pay homage to traditional elements that our homeowners love in our designs. However, why not go even further and give your property some extra character? Whether you go antiquing at local flea markets, specialty stores or even at local thrift stops, styling up your walls in one-of-a-kind artworks and hanging décor is sure to make for a more romantic retreat – there's just something about the way things used to be made that we find so timeless! You could also look for antique rugs, mid-century furniture and other touches to really make certain areas of your home stand out. Give it a try and see what the end result looks like.
Your home is a veritable playground when it comes to décor, and there's no better time to get creative during the month when we celebrate romance. This February, see where your inspiration takes you, and try making your home warmer and more inviting than ever. And don't forget, our Design Centres offer unparalleled customization opportunities if you're planning ahead for life in a new Valecraft home!